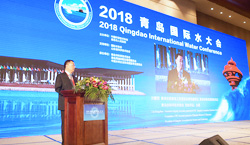 The Qingdao International Water Conference (QIWC) is hosted by the Qingdao Municipal People's Government, supported by industrial organizations and national government departments such as the International Water Association and Shandong Association for Science and Technology. QIWC is co-organized by the Qingdao Association for Science and Technology, Administration Committee of Qingdao West Coast New Area and Qingdao International Desalination Center. As an influential and popular event in the industry, QIWC has grown into a renowned international brand of convention and exhibition in the Asia Pacific region.
QIWC is providing an interdisciplinary exchange platform in the areas of water-related resources, environment, ecology and security, for promoting the development of water treatment industries in China and the world. Meanwhile, the leaders from both the government and industries are invited for the releasing of the information on policy planning, project demands and development trends in this field.
The 15th Qingdao International Water Conference will be held in Qingdao, China on September 15-18, 2020. The diverse content and themes of QIWC provide a platform for global water resources solutions, drawing entrepreneurs, experts and professionals to address challenges, exhibit technology, explore opportunities and share achievements, and exchanging ideas in promotion of the water treatment technology and industry.