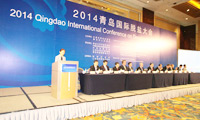 Theme
Water---Source of Life and Basis of Development
Content
Keynote speeches, comprehensive reports, special sessions, business networking, results transfer, product display, field trip
Topics
International Conference on Seawater Desalination
Seminar on Innovation and Development of Seawater Desalination Technology
Current situation and progress of the desalination Industry
Innovation of RO membrane seawater desalination technology
Innovation of thermal seawater desalination technology
Seawater desalination and environmental issues
Technology on using, efficiency and energy recovery of seawater desalination energy
Pre-treatment and post-treatment technology
Anti-corrosion control and material selection
Process design, operation management and economy of seawater desalination projects
Application of products that support desalination

Seminar on Development and Integrated Utilization of Brine Resources
Exhibition on reducing saline wastewater and efficient use of it as a resource
New technologies and developments on utilizing brine
Technical routes, engineering cases and economic analysis of water-salt co-production
Comprehensive utilization and green development of salt lake resources
Separation and extraction of valuable elements from brine resources (seawater, salt lakes, underground brine, etc.)
High-value product development of bittern chemical resources
Platform construction for testing and inspecting brine utilization

Seminar on Treatment and Reuse Technology of Civil Sewage
Market development of civil sewage treatment
Advanced treatment technology and process developments of civil sewage
Application of membrane technology in civil water treatment
Typical case analysis of civil sewage treatment and reuse

Seminar on Landfill Leachate Treatment Technology
Interpretation of policies and standards on landfill leachate treatment and discharge
Progress in landfill leachate treatment technology
ZLD and economy of landfill leachate
Typical Processes and Case Analysis of Landfill Leachate Treatment

Seminar on Sludge Treatment and Resource Utilization Technology
Interpretation of policies and standards on urban sludge treatment industry development
Technology progress and case sharing of sludge treatment and disposal projects
Development and engineering application of new conditioning techniques for pyrohydrolysis anaerobic sludge
Research and application process of utilizing sludge as a resource

Seminar on Application Technology of Water Treatment Chemicals
Application of water treatment agents in the industrial field
R&D and application of special agents for seawater desalination
R&D and application of cooling water agents
R&D and application of reverse osmosis agents
National Technology Exchange on Industrial Water Conservation
and Pollution Control
Seminar on Pollution Control and Resource Utilization Technology of Oil and Gas Field Development
Policies and regulations on environmental protection in the case of water intake and discharge in oil and gas industry
Advances in pollution control and resource utilization technologies for oil and gas development
New technology on wastewater treatment and reuse in oil and gas industry
Integrated solutions and case analysis on wastewater treatment and water reuse in oil and gas production

Seminar on Wastewater ZLD Technology in Coal-chemical Zones
Ideas on the development of the coal-based chemical industry in the new situation
Progress of treatment technology for high pollution and high salinity wastewater
Application of membrane separation technology in coal-based chemical wastewater ZLD
Case studies of wastewater ZLD projects in coal-based chemical parks

Seminar on Wastewater Reuse and ZLD in Power Industry
Energy conservation and emission reduction policies and regulations of the power industry
Progress in wastewater efficient utilization and ZLD technology of power plants
ZLD technology for desulfurization wastewater
Application of integrated membrane technology in the boiler feed water treatment of power plants
Application of seawater desalination technology in the power industry
Optimization design and economic analysis of water treatment projects in power plants

Seminar on Highly-difficult Treatment Technology for industrial wastewater
Turning industrial wastewater into a resource and industrial policy analysis
Developments in industrial wastewater pretreatment process
R&D and application of key technical equipment in the case of anaerobic oxidation and supercritical oxidation
Low energy-consumption and high-efficiency advanced membrane treatment technology and application
Application of evaporation crystallization technology and salt separation and hazard-free disposal technology

National Seminar on Water Conservation and Wastewater Comprehensive
Utilization technology in Metallurgical Industry
Current status and development trends of water resources utilization in the iron and steel industry
Water conservation in iron and steel enterprises and urban wastewater treatment and renewable technology
Reduction of coking wastewater and its advanced treatment technology
Treatment and comprehensive utilization technology of industrial wastewater with acid, oil, extractant and heavy metal in the case of sintering, iron making, steel making and steel rolling
Application of seawater desalination technology in the water treatment of the iron and steel industry
Typical case studies of wastewater comprehensive utilization in the iron and steel industry
Water Science and Technology
Seminar on New Materials and Developments of Membrane Separation Technology
Research progress in mixed matrix membranes, renewable material membranes, biomimetic membranes, etc.
Electrochemistry, pressure-driven membrane and membrane processes
Research and development of ZLD and near-zero emissions and utilizing membranes as resources
Research and practice of short-flow seawater desalination technology

Seminar on Anaerobic Technology
Industrial and urban wastewater treatment depending on anaerobic technology
Innovation / emerging anaerobic technology
Anaerobic technology for resource recovery
High solid anaerobic treatment technology
Pretreatment and post treatment of anaerobic technology

Networking on Innovation and Business of China-Europe Waster Resources Technology
Release of China-Europe new technologies in key areas of water treatment, watershed management, remediation of water ecology, and sponge city
Release of China-Europe water technology demand
Business networking of China- Europe enterprises
Governance of Water Environment and Construction of Water Ecology
Seminar on Construction of Water Ecology Civilization and Innovation
on Water Bodies Comprehensive Treatment
Construction and development planning of water ecological civilization
Progress of implementing River Chiefs and River-Chief informatization construction
Integrated thinking on constructing ecological water networks in connection with river and lake water systems
Key technologies for watershed water environment governance and ecological remediation
Key technologies for wetland ecological protection and restoration
Technological innovation and application of dredging and sediment dredging in rivers and lakes
Disposal and comprehensive utilization of sediment in rivers and lakes
Development and innovation of water ecological PPP investment and financing mechanism

China Smart Water Development Summit
Layout and planning of national smart cities
Analysis on the development prospects and modes of investment and financing of smart water affairs
Solutions on smart pipeline network for water supply
Discussion on smart drainage solutions
Sharing of cases and applications of smart water affairs

Seminar on New Technology for Decentralized Wastewater Treatment in Rural Areas and Small Towns
Market development of sewage treatment in villages and towns
sewage treatment technology and process developments in villages and towns
Management and case studies on operation and maintenance of sewage treatment projects in villages and towns
Discussion on commercial modes of sewage treatment in villages and towns
论文征集
1. The length of the papers should be around 5,000 words, along with an abstract of 200-300 words. If you submit a paper in Chinese, you also should submit an abstract of 1,000 words in English.
2. The title of the paper should reflect the nature and content of the paper and be no more than 12 words in length. All authors' names (maximum of 8) should be listed with the given name in full, all middle names as initials, followed by the family name in full.
3. Your digital figure files should not be separated from the text file. Text files (including figures) should be formatted to MS Word files, and remarked with full information of the speaker and/or organization. All margins 2.5 cm, Times New Roman, single spaced, all lines left-justified.
4. Arrangement: Title (14, bold), blank line, Authors a, b, c (12, regular), blank line, Addresses (10, regular), blank line, Abstract (10, regular), Key words (10, regular), Text (10, regular), blank line, References (10, regular). Please remember to include your fax number and office telephone number when submitting your paper.
After the conference, a selected number of full papers will be recommended for publication in the following journals. Followed is the paper format and style respective.
Desalination and Water Treatment (SCI journal) http://www.deswater.com/instructions.php
Water Science and Technology (SCI journal) https://www.editorialmanager.com/wst/
The recommended papers will go through a peer review process following the journal's own rules.
5. Deadline: March 31, 2019 for titles and abstracts; May 31, 2019 for full texts. Contributions are welcome. Please send your papers to
yang_yan90@126.com
or
cdashy@163.com
.
Conference Agenda
| | |
| --- | --- |
| Date | Agenda |
| June 25, 2019 | Full-day Registration |
| June 26, 2019 | Opening Ceremony/ Plenary Keynotes/ Sessions/ Exhibition |
| June 27, 2019 | Sessions/Exhibition/ Networking |
| June 28, 2019 | Field Trip |
Venue
Hilton Hotel in Golden Beach, Qingdao, China

Add: No.1, East Jialing river road, the Economic & Technological
Development Zone, Qingdao, China
Tel:+86-532-83150000
Set by the soft, wide sands of Golden Beach, with the Laoshan Mountains as a backdrop, the Hilton Qingdao Golden Beach hotel is an architectural masterpiece, combining old-world ambiance and modern design. Located on the southeast of Phoenix Island in Qingdao - The Pearl of the Yellow Sea - this contemporary hotel is located in Qingdao's Economic and Technology Development Zone (ETDZ), 20km from downtown Qingdao, and is close to many Fortune 500 companies. Liuting International Airport is only an hour's drive away.All of the spacious guest rooms and suites at this Qingdao hotel have generous work spaces and various entertainment options. A private balcony is provided in each room, from which to enjoy tranquil park and ocean views. Work out in the 24-hour fitness center or hire a bicycle and explore the beautiful parks nearby. Food lovers will be spoiled for choice at this Qiandao hotel with three bars and restaurants offering dishes prepared using only fresh ingredients, often sourced from local farmers and markets nearby.
Display of Technology and Equipment
Exhibition involves
= Technology, products and equipment of desalination and water treatment
= Supporting facilities and components for water treatment engineering and configuration
= Membrane and membrane modules, complete equipment
= Application technology and equipment for water conservation and using wastewater as a resource
= Engineering technology and supporting management
= Professional service providers in media, intelligence, consulting, software, etc.
= Equipment for sludge treatment
Booth Type and Price
Standard Booth (6m2)
1. Member: US $2,000
2. Non-member: US $2,200
A standard booth is equipped with: the higher than usual structure, one exhibition table, two chairs, a lintel bearing the company logo in both Chinese and English, two spotlights, 220V power socket, and booth carpet.
Registration
1. Registration Fee
Remittance in Advance: 800 US$/person
On-site payment: 900 US$/person
The fee covers the admittance to the conference, meals, materials and field trip.
2. Accommodation of the delegates will be subject to the organizing committee at their own expense.
Procedure
1. Please fill in the application form and send it to the organizing committee by email, WeChat, QQ, or fax before May 31, 2019.
2. Registration fees can be directly transferred to the organizing committee or paid on site.
3. After participants remit fees, please fax the remittance slip to the organizing committee for verification.
Sponsorship
The sponsorships are offered as follows:
Platinum sponsor, gold sponsor, silver sponsor, co-sponsor, banquet sponsor, gift sponsor, etc.
For those interested in the sponsorship, please contact the organizing committee directly for detailed information.